This much in advance: Even if Orlando, Fibunet or Diamant is your preferred accounting system and you have become accustomed to this financial accounting system over the years: It makes practically no sense to use Business Central or Navision with external financial accounting.
I myself have replaced many financial accounting systems with Navision over the years, e.g.
Orlando Financial Accounting from CPS Radlherr GmbH in Innsbruck and DECOM Softwareentwicklung GmbH in Steyr, a strong financial accounting solution, especially in Austria.
System /R2000 from Hübschmann in Erlangen
HS Software by Hamburger Softwarehaus
Diamand Software from Bielefeld
Datev
For a Datev connection, I recommend working with the GDPdU interface as a first step; many tax consultants get along wonderfully with it. The next step would then be my own Datev interface, which is based on Datev's universal import. In this way, all Navision postings can be transferred from Navision to your tax consultant in compliance with Datev (correct sign handling, contra account assignment) for little money and without additional maintenance effort.
Back to external financial accounting systems such as Orlando, Diamant and HS: All these systems, as independent solutions, have their strengths (and weaknesses) and their raison d'être.
But: Navision's financial accounting alone has advantages through its central integration within the overall Navision or Business Central solution that can never be covered by interfaces.
And: Navision accounting is simple and beautiful! If you disagree with this statement, you may simply not have been trained to understand it.
Just a few highlights of Navision financial accounting: (there can be no "complete" list, as it is far too powerful)
Dimensional accounting: Practically every financial accounting system such as Diamant, HS, Orlando supports you in cost accounting with the classic cost centers and cost units. These are 2 additional dimensions for expense/income analysis.
But what if you also want a 3rd dimension such as the seller? Or a 4th dimension like the project? Or a 5th... 6th... 7th... dimension? Navision abandoned this rigid cost center/cost unit logic many years ago. You can define any number of dimensions in Navision, cost objects and cost centers are only the best known of these. And you can link ANY posting with any of these dimensions. Every order, every invoice, every stock correction, every cost posting... Controlling has never been easier to implement than with Navision!
Budget recording and comparison: Plan your budget according to G/L accounts (incl. infinite dimensions!), articles, customers and vendors. Sales plans support you in your planning. Derive new budgets (any number of budget plans!) with simple calculation rules ("+15% in the following year") from actual figures or other budgets. Numerous reports and the unique account schemes directly support target/actual comparisons!
Creating electronic transfers and direct debits in Sepa format: Streamline your payment transactions!
GDPdU-IntegrationCreate any data exports from the Navision database with an easy-to-understand graphical export designer. GDPdU is then just a little finger exercise "before breakfast".
XBRL-Integration: The modern eXtensible Tusiness Reporting Language - especially for companies with American connections - is already included in Navision and only needs to be set up according to your specifications.
Sales tax ID check: Extensively customizable sets of rules allow you to check VAT IDs directly during input. Save yourself time-consuming queries.
Any change between single-line and multi-line booking: Conventional, traditional financial accounting systems often specify the posting method: there is exactly one account per line and exactly one contra account to be filled in. Or you have to enter exactly one account per line, with the posting records resulting from this ("split postings"). In Navision, you can enter each individual posting line as you wish. Payments to vendors on one line ("Bank to vendor"), invoices to customers on several lines (G/L account 8000 = 1000 €, next line customer 4711 = 1000 €). For example, you can also post cost invoices with single tax rates on a single line and with mixed tax rates (coffee 7% and crockery 19% from Edeka) on multiple lines. You don't have to change anything: Simply enter as you wish, mixed as you wish.
Any change between debit/credit postingLiability accounts increase in debit. Do you remember this horror sentence from any accounting course? If you are an accountant out of passion and love for numbers: You can continue to post in Navision with debit and credit as you have learned. But if you see accounting as a "necessary evil" or "means to an end", then I have good news for you: "If money comes in, then it's +. When cash goes out, it's a -". That's all the accounting knowledge you need to post customer or supplier invoices in Navision and to assign cost documents. In other words, more than 90% of the accounting work. Try it out : I can also teach non-accountants these activities in one day with Navision!!
Automatic account statement reading: With my bank statement import , you can teach any Navision how to intelligently import MT940 or CAMT053 files, including pre-assignment. Since Navision 2017, this function has even been included as standard. Or you can expand your Navision with OPplus for even more convenience. Reduce the posting of account statements to a few minutes of work per day or even per week!
Navigate: An absolute killer feature of Navision. No matter which document you are currently working on: Open accounts receivable item, fuel voucher, cash discount taken, EU sales, item receipt by order, posted sales or purchase invoice: you press the "Navigate" button, which is available everywhere, and see all the postings made in this context! You can view the posting document, e.g. the outgoing invoice or the purchase invoice, at the touch of another button.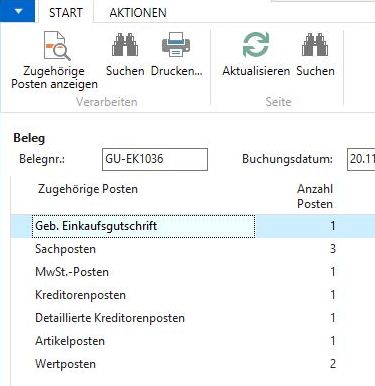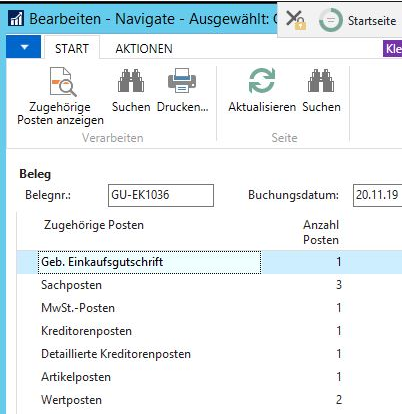 Account schemes
"Normal" financial accounting systems advertise with x evaluations. Of course, Navision also has numerous ready-made evaluations on board. However, the account schemes are a unique selling point: you can define any G/L account evaluations yourself - without any programming knowledge! Simply define which G/L accounts (totals) are output in which line and even calculate with these values - just like in Excel!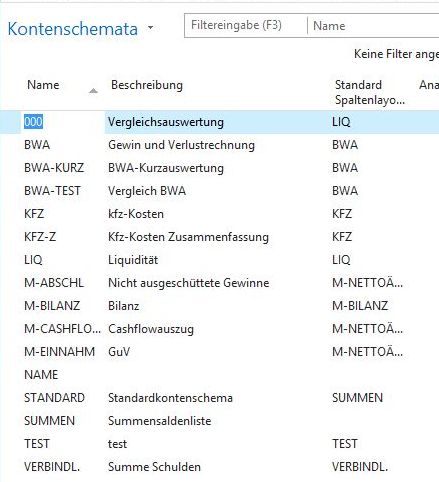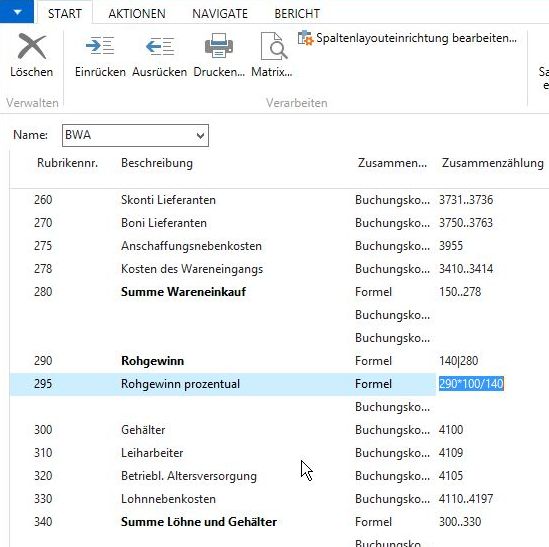 UVA, ZM Create recapitulative statements and advance VAT returns in seconds. With Navision, it doesn't matter whether you have pure G/L accounts (8000 goods revenue 19%) or mixed accounts (8000 domestic goods revenue): Navision provides you with clean statements and the corresponding accounts/posting proofs.
Analysis views: You have similar freedom as with the account schemes for all cash-valued postings via the analysis views.
Stock value integration; Would you like to post your inventory values only once a month or once a year? Or do you want every sale, every purchase to be reflected in real time in your financial accounting? In Navision/Business Central you have the choice: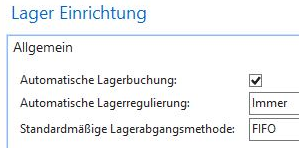 Programmability: Sales orders blocked due to credit limit overruns should be automatically sent to the warehouse as packing slips after a payment has been posted? No problem with Navision and its unique integrated development environment (until 2019) or AL expandability (from 2019). Complete processes can be automated!
Client accounting: Create as many individual and independent clients as you like, each with their own chart of accounts, their own postings and histories, their own financial years, etc., at no extra cost!
Recurring bookings: Do you have almost identical postings every month for public utilities, employee wages and mobile phone bills? In Navision, you can simply save these posting processes as recurring and activate them every month with the flick of a finger. It has never been so easy to rationalize routine tasks. Take the pressure off your day-to-day business.
Basic data: Conventional accounting systems aggregate their postings at some point. This means that evaluations for previous years are only possible with totals or not at all. Navision retains every single entry, every single posted document for as long as you want, even for the entire 10 years of the retention obligation! This means that any period comparisons are still possible at a later date. See also time stream evaluations.
Timeline evaluations: Decades before the term time series databaseeven made it into IT, e.g. via InfluxDB, Navision was already able to evaluate any period, even without the programmer having to think about it at the beginning. It has always been possible in Navision, for example, to compare January 2019 with the 4 March Mondays in 2018. Simply by setting filters, without any programming. See also Basic data.
Free choice of hosting: 100% from the cloud, 100% from your own cloud, 100% on your premises? Navision and Business Central give you the choice, decide for yourself what is best for you... or let me advise you.
Real-time results: Navision is not "fast", or "near real-time". Navision is "real time"! If at 12:30:00 an open accounts receivable item has been booked out in Financial Accounting, then at 12:30:01 a credit limit warning no longer appears in Sales. Without any batch run, without synchronization, without data reconciliation. This feature alone practically prohibits the use of external financial accounting systems. With Navision, you have well-founded and reliable figures for your internal controlling and transparency in your company at all times.
Self-definable import and export functions with Rapid Start: Output any data from Navision, in freely adjustable formats, e.g. also directly to Excel with the Rapid Start module. Read your set-up data from your real client and import it into a new client via Rapid Start, and create a new accounting system ready for operation in just a few minutes!
Mobile access: Navision's web services from NAA 2013 RTC allow you to easily access your Navision from anywhere in the world - if you allow it. With the phone app, you can even, for example, simply photograph booking receipts such as hotel bills and fuel receipts and immediately pre-enter them for financial accounting: expense reports have never been so easy to get into financial accounting.