Contact us!
Test the app for free: Android Playstore or Apple Itunes/ Appstore 
"Der Ordersatz" as an ordering app and catalog app (also referred to as electronic price list or electronic item master data) is so universal that you can use it for virtually any wholesale or retail business. Also ideal to complement your online store for even easier and faster order processing. One app, one interface for your sales force and for your customers. Using it as a simple electronic price list is possible, but the possibilities go far beyond that:
Fruit and vegetable trade
Food products
Gastronomy supplies
Car trade
Spare parts trade & mechanic control
Canteen and other food orders
Garden Furniture & Tools
Ironware
Tire trade
Animal supplies
Textile wholesale
Cosmetics wholesale and retail
Electrical wholesale
Tool trade
Sanitary supply
Office & Stationery Supplies
Model building trade
Sanitary trade
Construction material
In-house procurement
Watches & Jewelry
Furniture
Instruments
... and your industry!
Stellen Sie sich vor: Der Barkeeper in der Diskothek. Morgens um 1 Uhr gehen Servietten und Vodka aus. Er zieht sein Handy aus der Hosentasche, klickt auf "Thekenbedarf". Dort findet er sofort seinen Vodka und seine Servietten, die er immer bestellt. Ein Klick auf + und sein Problem ist gelöst. Ohne, dass er sich am PC und im Webshop anmelden muss.
Egal, ob er sein Handy aus der Hosentasche zieht, oder hinter dem Tresen ein Tablet bereitliegt: Bestellungen sind in Sekunden erfasst.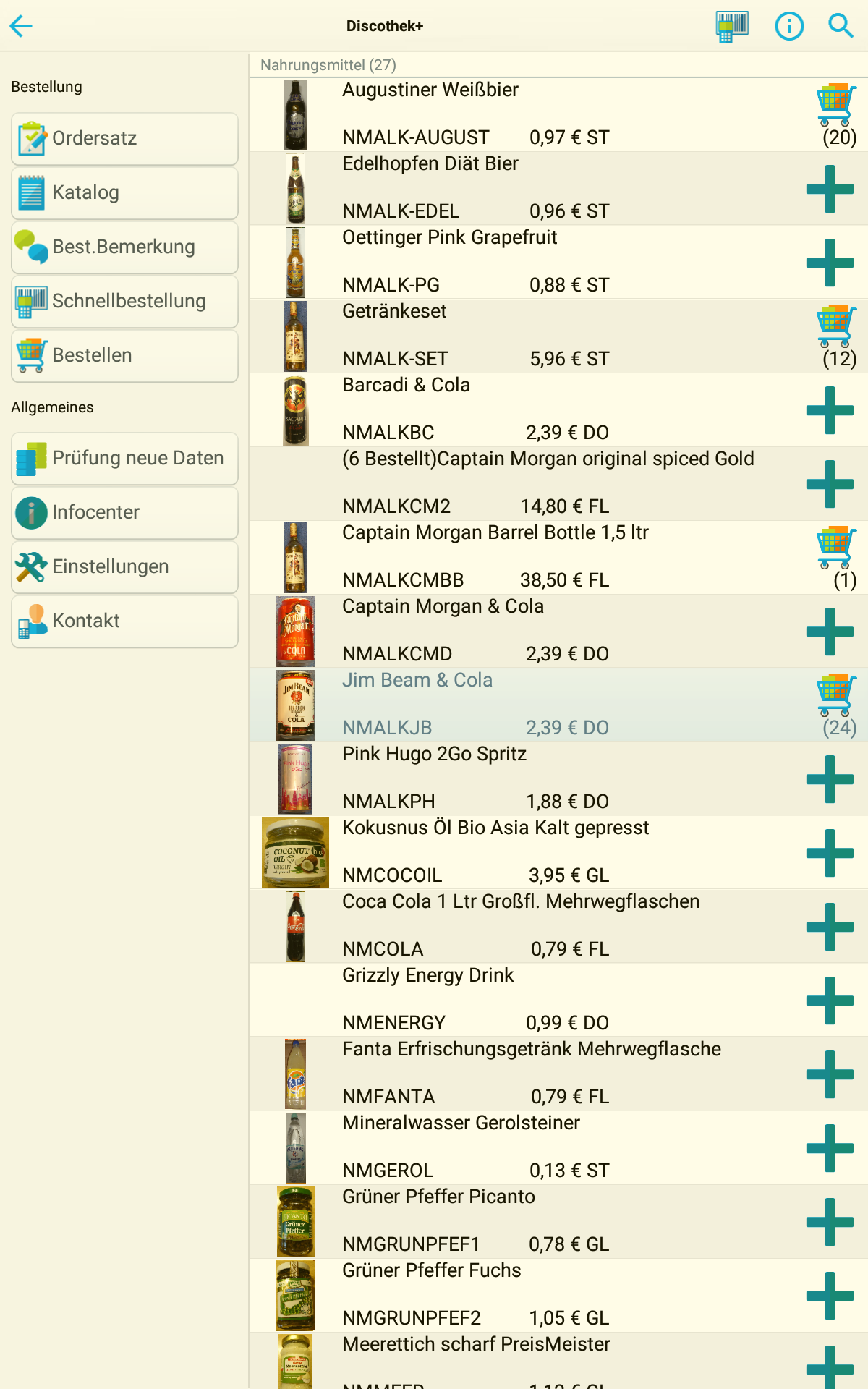 Clearly arranged group or list display, can be switched with a tap of the finger.
Medical Control notices at 7 a.m. in the hospital that toilet paper is running low in restroom 7 in building A. She selects building A / room 115 (restroom 7) from the customer list and finds the possible items there. She presses + on toilet paper, and immediately another + on hand disinfection. Her cleaning schedules are automatically supplemented with the refill task in this room.

Do you have a car dealership? The app is flexible enough to show cars to your customers as well. With as many detailed pictures, technical data, descriptions...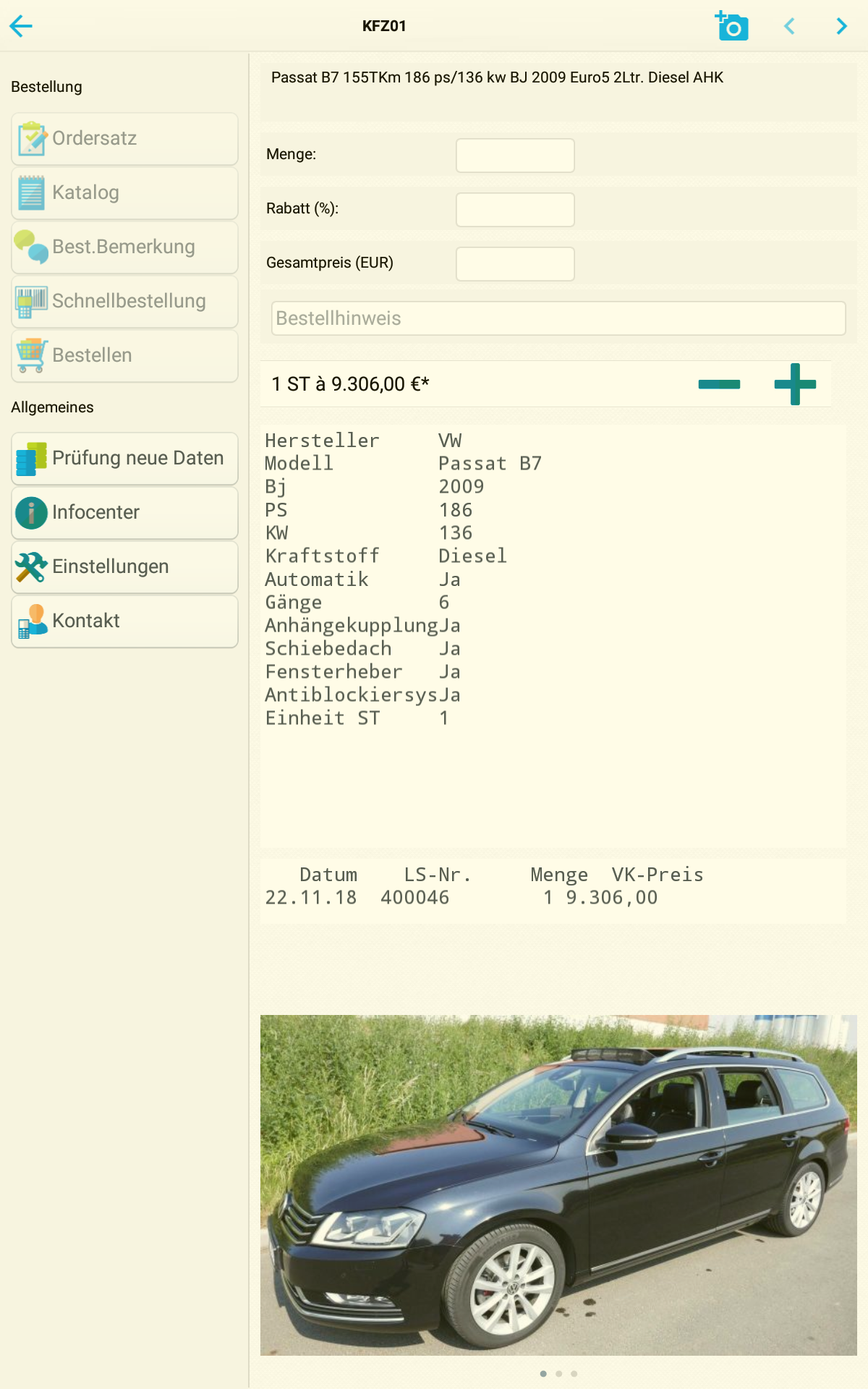 Unlimited number of images per product. All data is stored in the device. Therefore, no nasty surprise if there is no mobile network available.
This app is also suitable for school lunches, canteens, hospital catering, nursing home care. See for yourself!
Manage calories, allergens, images, vegan or halal preparation. Pass on all information to your guests in a way that is easy to access. Of course, it's just as easy to use on a cell phone as it is on a tablet.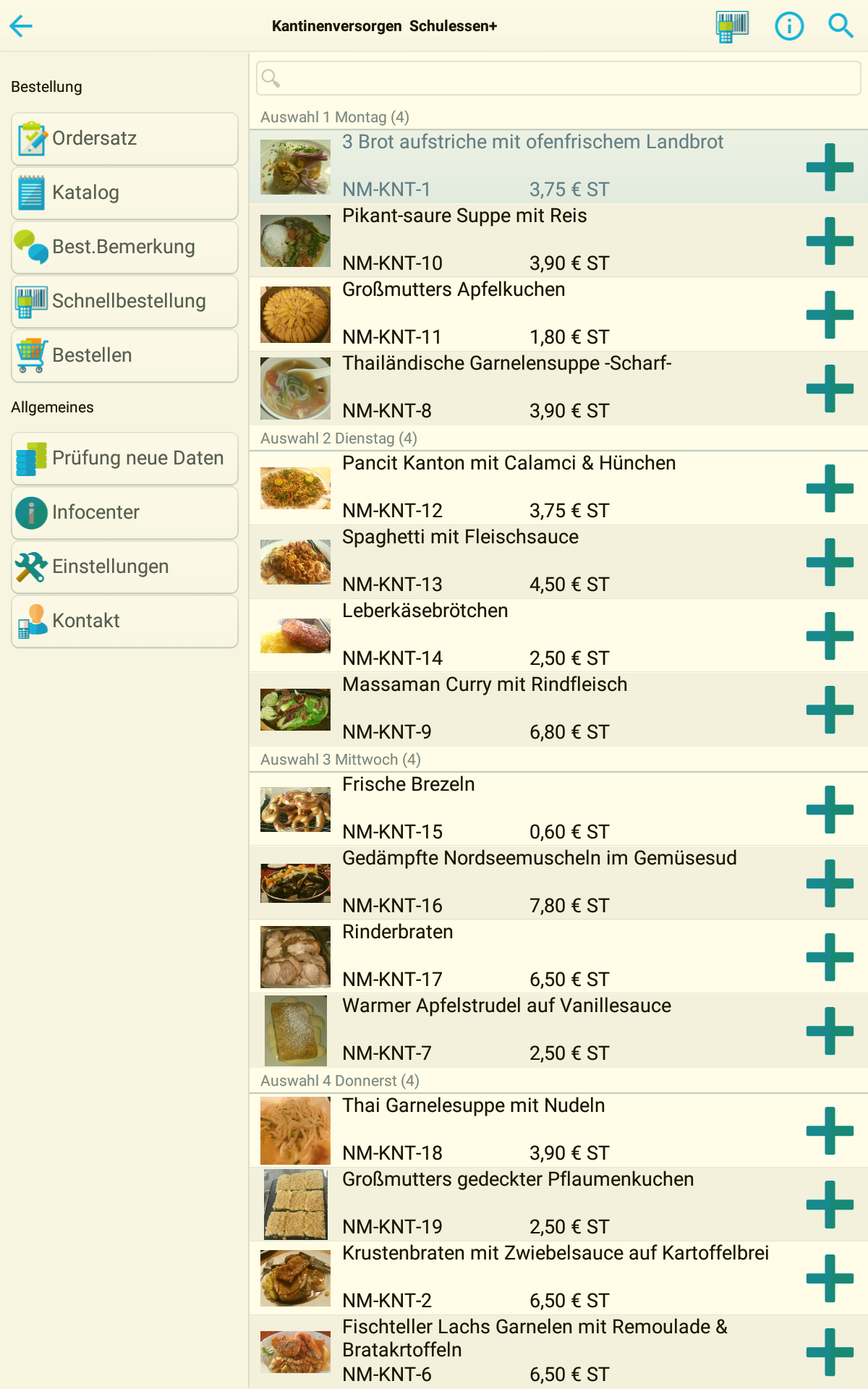 A Day in the life of your salesman
Your sales representative gets into his car in the morning. The app already has the right customers to be approached in the right order on the screen for that day. At first glance, he can also see there where orders still need to be sent.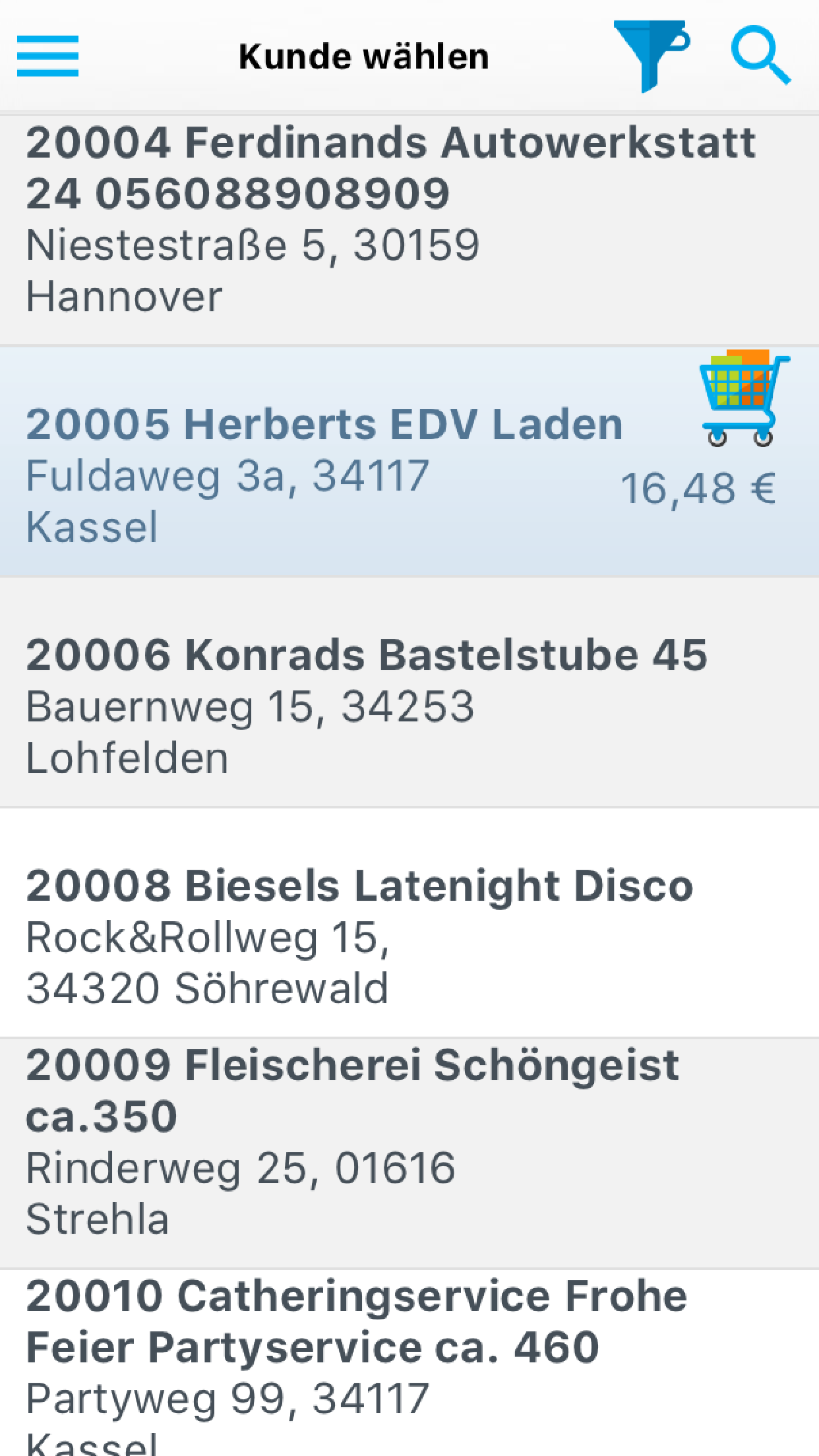 As soon as your salesperson arrives at the customer, he calls up his order record / electronic price list. The tablet displays only the important items for this customer (his order list).
While walking through the warehouse, your employee also notices a machine that needs to be serviced or repaired. Your salesperson or freelance sales representative simply makes a note in the app: "Send mechanic out for repair" and, to be safe, also takes two photos with the app of the machine and its nameplate.
There are already pre-labeled boxes with barcodes in the warehouse. Your representative simply scans all the barcodes of the boxes that are empty with the app. The app automatically enters the right items with the right quantity into the order. Kanban as it should be: Simple and good.
Your customer notices that he also needs tape or batteries that he has never ordered from you before. Your salesperson switches to the full text search to look for the desired article. At the push of a button, this article is also added to the order and, via your office administration, automatically to the next order record. You already have a recurring item listed with your customer.

Estimated reading time: 6 minutes