Go directly to the operation manual
Sie suchen eigentlich nach mehr Informationen zu ZUGFeRD und XRechnung mit Navision Financials Dynamics oder Microsoft Business Central BC365 ?

Let's be honest: How many supplier invoice numbers are typed into Navision or Business Central in your accounting department every day? How many amounts? How many suppliers are searched per day? I can give you an exact number if you like! But that's over now, once and for all!
It's time to reduce your workload:
Cost accounting: Reduce your workload down to 0%!
Goods deliveries from B and C suppliers: Reduce your workload down to 0%!
Goods deliveries from A suppliers: Possible reduction of workload depending on document flow approx. 50%.
GetMyInvoices GMI relieves you from having to call Amazon/Vodafone/Telecom/Google Adwords for invoice documents. It ensures that the final indexed document arrives in Navision or Business Central and Navision. Business Central also takes care of the initial account assignment and posting for you.
(Note: Do you also capture your account statements by hand? Stop that! No matter whether native Navision up to 2009R2, Navision from 2013 or Business Central).
Incoming goods invoices
If you already place your goods orders via Navision or Business Central, you have already defined what is to be delivered at what price and in what quantity.
In most companies, an invoice will come up that is 100% identical to the purchase order. Why should you even look at it? Unit prices and bank details are already in Navision (Business Central), so they can be protected against manipulation. Quantities have been verified by the goods receipt. Danger of manipulation? Practically non-existent!
Incoming invoice
...by Mail
GetMyInvoices can automatically monitor your mailboxes and detects incoming invoices. Unclear mails ("Enclosed is an example of our invoices in PDF...") are marked for follow-up.
GetMyInvoices also provides you with a standalone mailbox ("IhreFirma@GetMyInvoices.de"). Just have incoming invoice mails forwarded to this mail address from your mail server or give this mail address directly to your suppliers and the setup is done!
...by Scanner
Use your favorite scan program, Windows scan if necessary! It doesn't matter, because this program doesn't have to be able to do anything. OCR, assignment, indexing. It all takes place under GetMyInvoices! You also don't need a fee-based scanning program like Kofax or other programs that charge by scans per month. You have a cloud-enabled scanner? Even better! Just set the destination to e.g. Google Drive or any other storage location. Of course, that can also me monitored by GetMyInvoices. Navision and Business Central themselves do not need any of these skills, the ERP simply requests the finished data from GetMyInvoice.
...by App
You don't need an additional app! GetMyInvoice has a free of charge app for your phone, with which you can simply photograph e.g. fuel receipts, cash invoices, entertainment receipts, pre-index them according to legibility... and you're done!
Tip: Just collect the real paper receipts roughly presorted, e.g. in a cardboard box by date. Nowadays, even the tax offices rarely ask for the original receipts if you have a good scan. The associated administrative regulations are becoming more and more generous in this regard.
...by Portal scan
Big Players like Amazon, Vodafone, Telekom, Google Adwords, Ebay, etc. have long ago switched to not sending invoices at all. Instead, you are forced to search for your invoice receipt yourself in the depths of the menus. This can take several minutes per receipt, just like Google. GetMyInvoices knows thousands of portals and "knows" itself where in which portal the invoices can be found... and picks them up there automatically!
For example, on Amazon, GetMyInvoices goes as far as to automatically send reminder emails to sellers if they haven't provided an invoice yet!
GetMyInvoice automatically gets your invoices from portals such as
Municipal utilities
Amazon
Ebay
Google
Water utilities
Telekom
Vodafone
O2
…
...by Hand
Yes, you can do that too. Just drag and drop an invoice as PDF, JPG, PNG or whatever into GMI's inbox folder, from any browser in the world. On vacation, from your tablet, via your iPhone: it doesn't matter! At the same time, you don't have to worry about post-processing your staff in Navision & Business Central at this point. As soon as the document(s) have been indexed (recognized) in GetMyInvoices, they automatically end up in Business Central / Navision, including the document file itself!
Central processing
GetMyInvoices consolidates all incoming documents and thus provides a central invoice receipt. You no longer monitor individual mailboxes, scanners or portals. You no longer search laboriously for invoices from the Telekom or Vodafone portal. GetMyInvoices does it all for you! And then? Automatic transfer to Navision / Dynamics Nav / Business Central! Much easier than Document Capture and much more powerful than Navision document recognition.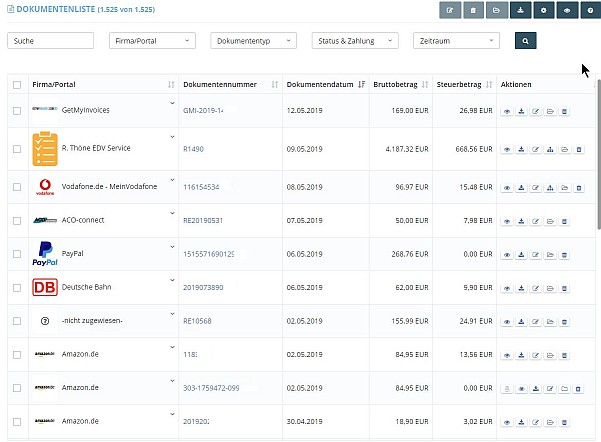 GetMyInvoices centralizes and automates all these document sources in one folder.
GMI automatically recognizes the most important document data via AI/training: Invoice number, supplier number, net & gross amounts. In individual cases also document lines, although this is usually not necessary.
Navision and Business Central periodically reads all new invoices. Including pre-accounting and attaching the incoming document file with the original document as PDF.
Navision automatically deletes or archives receipts in GetMyInvoices after processing. If you do not trust the cloud: No problem, the documents are also stored (or only stored) in your office!
Automated further processing in Business Central or Navision
This way cost invoices are captured fully automatically. Invoices from B and C suppliers (only individual / few orders in Navision / BC) can be automatically checked against the already booked delivery and thus posted.
ZUGpferd
In this case GetMyInvoices uses not only OCR with an AI trained from hundreds of thousands of documents, but also e.g. ZUGpferd - without your Navision already knowing ZUGpferd!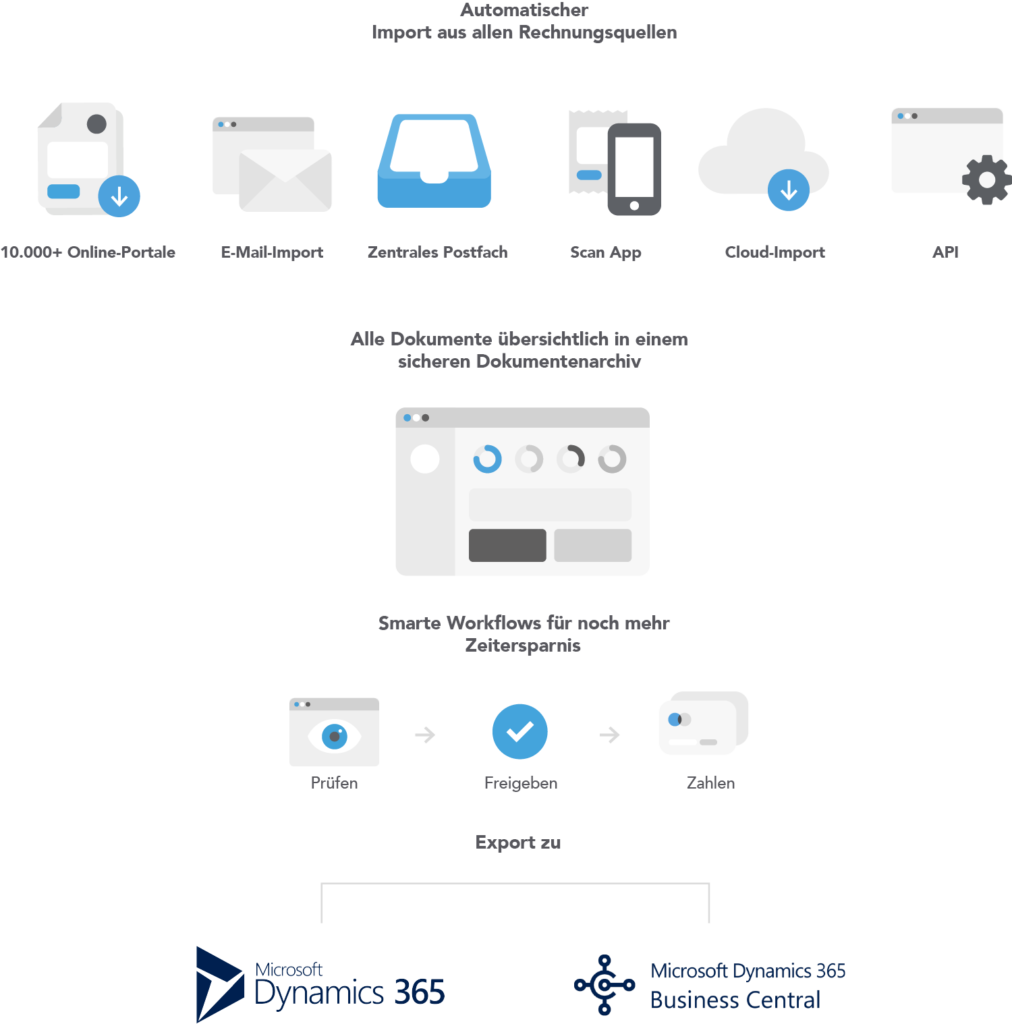 It doesn't matter whether your employees order by phone, via Business Central and Navision, or by fax. Or even purchase directly on site. Navision can also pre-record cash entries - an enormous time-saver for your accounting department! GMI is practically a tireless additional employee who supports your accounting department 24/7. You've never processed expense reports so conveniently and quickly with Business Central. And typing errors are also eliminated...
Start with GetMyInvoices and log in.
During the setup, create a GetMyInvoices-Mailbox with your company name.
Send 50 random incoming invoices from your incoming invoice mailbox to this new mail address
Check in GetMyInvoices how your invoices have been indexed automatically: Invoice number, individual net amounts, individual tax rates, due date are detected fully automatically!
Assign invoices to individual suppliers, preferably with their vendor number at the beginning
Send 50 more invoices to this mailbox. Invoices that have already been recognized once are now already assigned fully automatically!
All these invoices can now be transferred to Navision with my interface without manual work including the incoming document file.