Automation
Through the job queue entries the item statistics should be automated.Navision should be able to calculate 10-20 articles per second. Through the parameter string you can specify how many articles Navision & Business Central should calculate per run. Rule of thumb: Each article should be calculated once a week.
This results in the number of articles divided by the number of runs per week = number of articles per run.
The number of runs per week results from the set Start- and End time as well as the Number of minutes between executions.
Order parameters
You can recognize almost all fields for the optimized order proposal through the beginning Durch. which stands for for average. The average is the buyer's best friend: It makes it easier and more refined (with a few additional algorithms) to forecast demand.
Purchasing Setup

Round up the average order proposal starting from %*
If you enter a value here, e.g. 80%, Business Central or Navision checks when determining the order quantity whether the order quantity 80% (in this example) is the next larger unit. In this case, the order quantity will be rounded up to the next larger unit.
Average purchase history date formula
To determine the average delivery time, the optimized order proposal analyzes the history of deliveries. With this date formula you can specify how far into the past Navision should look for this. Recommendation: Look back at Business Central and 1-2 years. Looking too long into the past makes outliers forgotten too slowly, whereas looking too briefly evaluates outliers too strongly.
Average next article to calculate**
Up to which article was the statistics updated. Business Central or Navision only ever calculates a handful of items in order not to unnecessarily burden the server and the entire system. As soon as the last article has been calculated, Business Central or Navision starts all over again. See also Automation.
Average factor order proposal*:.*
Navision and Business Central always calculate the order proposals according to the classic commercial calculation method: In the case of normal goods dispatch, new goods should be ordered in good time so that the new goods arrive exactly when the last stock is sold out.

This reduces the capital tied up to a minimum (no more goods are kept in stock than are normally sold until they are replenished). At the same time, the stock availability is increased to - normally - 100%: All customer orders that hit the statistical average can be served directly from the warehouse.
Es gibt aber auch gute Gründe, einen Lagerbestand gezielt herunter- (-) oder hoch- (+) zu fahren, z.B.
+ There is untied capital available, which is to be invested in the inventory
+ Favorable capital market interest rates, which bring more returns than costs when investing in inventory
+ Erwartete Engpässe (z.B. Anzeichen einer Pandemie wie Corona, beobachtete oder erwartete Änderungen im Kaufverhalten der Kunden, angekündigte Preiserhöhungen von Lieferanten)
+ Increased shelf life
- Changes in buying behavior
- Fashion changes
- Shortened shelf life (best before date)
In such cases you can increase the order proposals (a factor> 1, e.g. a factor of 1.10 increases the order proposals by 10%) or reduce them (factor 90% of the calculated order proposal quantity))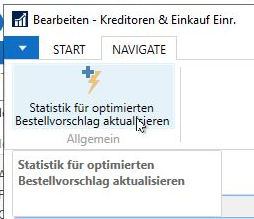 Accounts payable master

Ø Delivery time in days (fixed)*
"Normally" Navision or Business Central calculates the Ø delivery time automatically based on the purchase history.
Wenn Sie aber Direkteinkäufe haben, funktioniert dies nicht. Beispiel: Sie Kaufen Kupfer am Spotmarkt, oder Frischfleisch, frisches Obst, Fisch auf dem Wochenmarkt nach Verfügbarkeit. Danach erfassen Sie die gekauften Produkte in einer Bestellung und verbuchen diese direkt. So haben Sie hier immer Lieferzeiten von 0 Tagen. Somit kann Ihnen Business Central oder Navision keine sinnvollen Lieferzeiten, und damit keine sinnvollen Beschaffungsmengen berechnen.
Der Wochenmarkt findet aber jeden Mittwoch statt. Dann können Sie hier eine durchschnittliche Lieferzeit in Tagen von 7 hinterlegen. Nun kann Ihnen Navision wieder sinnvolle Bestellvorschläge für einen Wiederbeschaffungszeitraum von etwa 7 Tagen machen.
Average factor order proposal*: *:
A factor with the same function as in the Purchasing Setup. This factor here has a higher priority, if it is set, the factor is not taken out of the facility.
Average minimum order value* *
This value is used twice.
a) It is displayed as plain text in the order proposal in order to get a quick overview.
b) In an order, this value serves as a (changeable!) specification for an order value increase.
Article master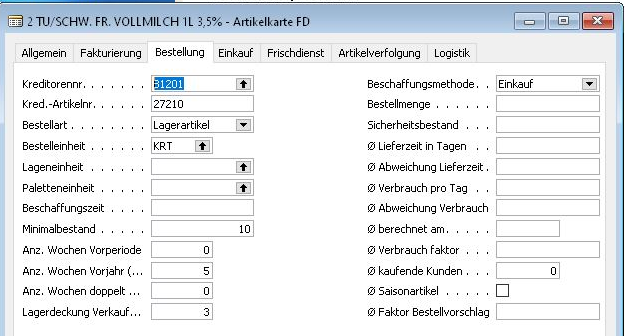 Average delivery time in days
What is the average time between ordering and delivery? This is important for the optimal time to reappoint.
Average deviation in delivery time
How accurate is the average delivery time in days?
Average consumption per day
How many pieces are sold / consumed on average per day?
Average consumption deviation
How accurate is the average consumption per day?
Average calculated on
When was the last time these statistics fields were updated for this article?
Average consumption factor
The factor as in the vendor or in the Setup. If the factor is used in the article master, the other two factors are irrelevant (highest priority).
Average Buying Customers
How many different customers are buying this item? The smaller this number, the more dangerous: If a single buying customer drops out, you may be left with the inventory. The maximum number of buying customers is capped at 10, since from this value the risk diversification is wide enough.
Average special items
In the case of special items, the statistics fields are not used for the order proposal. Only customer orders are included in the order proposal. (Of course, the customer orders are also included in the order proposal for normal articles.)
Order quantity
Losgröße, in diesen Stufen wird der Artikel bestellt. Sinnvoll z.B. bei Kanistern oder Konserven: Es kann immer nur eine ganze Palettenlage, z.B. 9 Stück, bestellt werden. Eine nur teilweise bestückte Lage sorgt eher für Beschädigungen beim Transport. Navision & Business Central wird also bei einem Bedarf mindestens 9 oder ein vielfaches davon bestellen. Dies ist ein Standard Business Central und Navision Feld.
Backup inventory
The safety stock should never be started, so this is deducted from the available stock when the order is proposed. The meaningful inventory is thus increased by the safety stock. This is a standard Business Central & Navision field.
Seasonal items
Bei Saisonartikeln wird der Ø Abverkauf nicht anhand der letzten 5 Monate, sondern anhand der vergangenen 5 Jahre in jeweils diesem Monat berechnet.
Beispiel: Die Statistik wird im Dezember aktualisiert. Bei einem Nicht-Saisonartikel (z.B. Brot) wird der Ø Verbrauch/Verkauf aus den Monaten November, Oktober, September, August, Juli ermittelt (Dezember hat die größte Gewichtung). Bei einem Saisonartikel (z.B. Schokoladenweihnachtsmänner) wird der Ø Verbrauch/Verkauf für den Bestellvorschlag aus den vergangenen 5 Novembern (November des Vorjahres, November des Vorvorjahres…) ermittelt.
Accounts receivable setup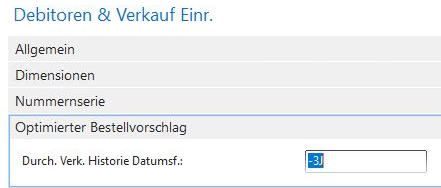 How far into the past Business Central or Navision should look to determine the average sales. Recommendation: 3 years (-3y)
Generation of an order proposal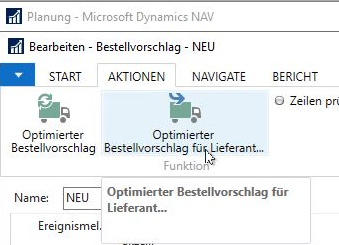 Through Optimized order proposal start the calculation of the order proposal. Through Optimized order proposal for supplier start the order proposal for a specific supplier. In the next step, you can then select the supplier from the list of vendors.

Order value increase
In the order header (purchase order header), enter in the field Increase order value the desired order value. This field is pre-filled with the content "Minimum order value" from the accounts payable master.
Then select the order value increase: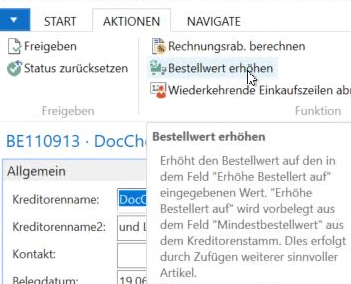 Navision & Business Central automatically adds items that are needed soon to the order up to the specified amount.
* The "Durch." in the field name only indicates in this field that this setting belongs to the optimized order proposal. This is not really a field that represents an average (Ø).